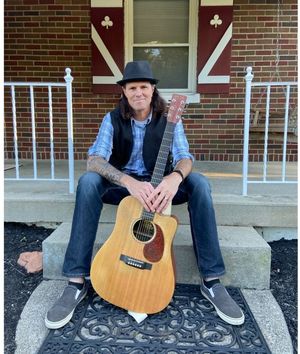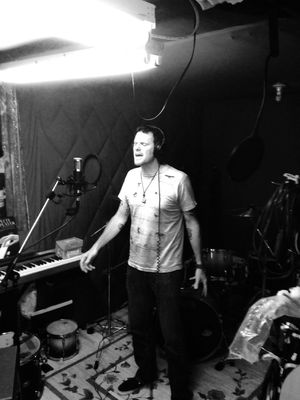 Reviews & Press
Click here for Gary's live performance/interview on WOBO 88.7 FM
Professional and Great Experience 
Gary Bertsch and the Blamers have played at my place more than any other band. They act professional, arrive early, and are ready to go before the time they are supposed to go on stage. Once on stage, they have an amazing sound. Their original song writing is reminiscent of Woody and Arlo Guthrie, while their style is more like the Avett Brothers. They bring a great energy to every show! 
Reviewer: Andy Reynolds 
Event Date: November 23rd, 2022 
Services Provided: Folk Band 
Rating: 5 out of 5
 ---------------------
Best band EVER!!! 
I am a huge fan of Gary Bertsch and the Blamers! Gary has a magical talent of turning moments of his life into the best songs I've ever heard! This band is a treasure hidden in my hometown and I love that every time I see them play there is always a new Blamer sharing their hidden talent! If you have never heard them play before, you are missing out, stop by any fabulous venue that they play and you will be glad you did! 
Reviewer: Ann R 
Event Date: January 14th, 2023 
Services Provided: Folk Band 
Rating: 5 out of 5 
-------------------
Absolute hit for my Oktoberfest party! 
Gary was the perfect headliner for my Oktoberfest party. He was great with the crowd and played music to fit the theme. My guests had nothing but compliments. I highly recommend his band and am glad to have found him! Prost! 
Reviewer: Nicholas P. 
Event Date: September 24th, 2022 
Services Provided: Americana Band, Folk Band 
View messages 
Rating: 5 out of 5
 --------------------
"I reached out to Gary to play a graduation party held in the backyard. Gary brought a big stage feel and incorporated that into our intimate setting and the crowd could not have been more engaged. A true professional, he would feel at home playing at Riverbend, my backyard, or anywhere in between. Book Gary for your next event and your guests will have a wonderful evening."
Jason S.
June 2022
 -------------------
"We've been able to make it out to the last two shows at the brewery and I am listening to your album on Apple. I just wanted to say how much I have enjoyed it. You just give off this passionate and positive vibe in your show and it's so good to get out of the house, be around other people and experience that right now.  Your lyrics are thoughtful and passionate and you've inspired me to get my guitar back out and start playing again."
Andy R.
September 2020
 --------------------
Click here for Northern KY Tribune article about The Bear 2019
 --------------------
Great Music and they stayed later than they were booked! 
I booked Gary and his group for the 2018 Greenhills Harvest Fest as our headliner and although I was too tired to stay to hear them play I was given rave reviews from our volunteers and committee about their performance! One of my council members told me that they sounded great, the crowd was really enjoying the performance, dancing along and that the band even stayed 45 min longer than they were booked to perform! I really appreciate how great these guys were to work with and knowing that our crowd was enjoying them! Thank you so much to Gary and The Blamers for a great performance! 
Brenda D. Village of Greenhills 
Reviewer: Brenda Davis 
Event Date: October 6th, 2018 
Services Provided: Americana Band, Folk Band 
Rating: 5 out of 5 
--------------------
Great music & great people! 
My company hosted a catered brunch benefiting a charity organization on a windy, rainy day. Despite challenging weather conditions The Blame Bertsch Band got their gear set up quick & provided energetic accompaniment for our event. They're professional, friendly, and most importantly talented. I recommend them highly for any occasion. 
Reviewer: Nick M. 
Event Date: October 15th, 2017 
Services Provided: Americana Band 
Rating: 5 out of 5
--------------------
"NKU grad makes good (music).  Gary Bertsch has been playing music since his college days at NKU. The Amelia High School English teacher, who has played in a number of local bands over the years, has partnered with guitarist Dan Walsh to produce "Blame Bertsch," an album that features the pair on guitars and vocals. The CD shows that Bertsch has learned his folk-rock lessons well. He harmonizes nicely with Walsh, who adds spicy slide licks on multiple tracks. 
Bill Thompson - wnku.org
"

Speak some more love today. Speak some more without delay. Promise to hold my hand, promise you'll make me stand."
— Gary Bertsch from "The Bear"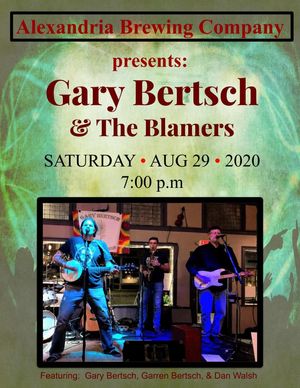 Sample Tracks
0:00/3:32

0:00/3:50

0:00/4:35

0:00/2:15

0:00/4:20

0:00/5:11